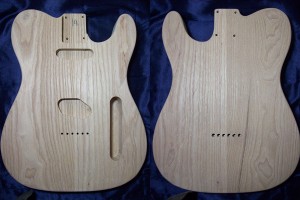 This build was a snap decision last weekend. I have had this Mighty Mite MM2705A body laying around for a while. Not up to par to sell (the ferrule holes are at an angle and the neck mount holes out of line) it gave me an excuse for another build!
I had attempted to plug the neck holes with dowels when it first arrived with the idea of assembling a Billy Gibbons Bolin "Super Model" inspired guitar, but didn't do a great job. So last week I ordered a plug cutter set, intending to drill out the plugs again and use specially cut ash plugs.
Being the impatient fellow I am, I set about finishing the body while waiting for the plug cutters to arrive.
I had a few different ideas for the finish (stain and shellac, stain and tru-oil, whitewash) but had planned to pre-age the wood before applying any finish.  I found this product – Blanchon's Wood Ageing Agent. It comes in various colours/shades, and I went with silver.
It is extremely simple to use – simply brush on and wipe off the excess. It works much like a stain – the open grain areas darken more than the close grain. Leave it to dry for a few hours and if you want to increase the effect add another application. I decided to rub it back after each application (2) so the grain had more contrast.  This also had the effect of bringing out the different colours in the wood.
At this point I was still undecided on a final topcoat. Although I had hoped the ageing would have given a more grey "driftwood" look (different shades react differently to different wood), I was beginning to warm to how it looked now. I decided to give it a few coats of sanding sealer, then Tru Oil.  I applied the sanding sealer with sections of cleaned old t-shirt in thin layers along the grain. After 6 thin coats coats (don't forget – no grain filler) I honestly didn't see the need for Tru-Oil,  so decided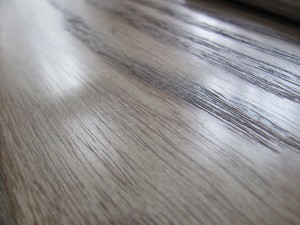 to wax it instead. I gave it 24 hrs for the sanding sealer to harden a little then flattened it with 0000 steel wool. This left a wonderful matt surface. Two applications of Liberon Black Bison Paste Wax with a soft lint free cloth and some judicious buffing and the wood felt fantastic.
As with Esquire #1 and my personal preference, it has no grain filler so still feels like a piece of wood, but I have to say this finish feels even better. I am very happy with the look and feel and am planning some more experiments along this line in the future.
Coming up next – assembly and those pesky neck mount holes.