The La Cabronita model introduced by Fender in August has been quite a hit, which is no surprise. A very cool looking and sounding guitar that a lot of players have been lusting after for a while.
However there are a few things that can be done to improve it for minimal outlay. I've already posted about fitting the capacitor circuit from the Custom Shop models here.
Another easy mod is to swap the bridge. For some reason Fender have fitted a bridge with 2 1/8″ / 54mm string spacing, which is not how either the Custom Shop or Telebration models come. They both have the American Standard Hardtail Stratocaster bridge fitted, which has 2 1/16″ / 52.38mm spacing.
Even stranger, it seems that Fender have actually drilled the body for the American Standard bridge string holes/spacing and just fitted a different bridge – the string-though holes are a little oversized, which makes them compatible with both bridges. However, the wider spacing does not allow the strings to travel over the centre of the bridge pickup poles (see first picture). How much this actually matters is up for debate – I doubt anyone could actually hear the difference between centred and off centre strings. Cosmetically it looks a little naff though.
Fitting a US Standard bridge requires angling the outer mount screws to get them to use the current holes. They are also fairly pricey, and I'm not a big fan of the offset saddles on the US Std bridge. Luckily I stock a very nice drop in replacement bridge!
Our Hipshot style hardtail bridge – a high quality solid bit of kit.
It's also a direct retrofit for the La Cabronita bridge. No messing around angling screws, the mounting screw holes are a perfect match.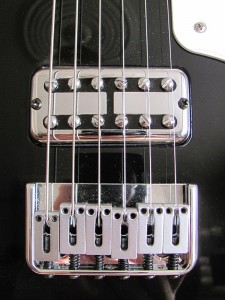 It was while doing this mod that I noticed that the bridge on my La Cabronita was very slightly off centre – nearer the neck on the bass side.  You can see it in the first photo. I didn't want to mess around with filling and redrilling the holes to get it perfect (I bought this guitar knowing it had a couple of cosmetic flaws), so just fitted the new bridge. This is why the B/E strings are not centred over the poles, but you can see they are a marked improvement over the stock guitar.
I'm very happy with the mod – cosmetically I think the new bridge is a looker, and in use I much prefer having the raised sides on which to rest the side of my hand. The height adjustment screws in the block saddles  don't dig in to my palm, either.
I'll be fitting the capacitor circuit next – just waiting for a hardware shipment to arrive with push/push pots.